For NEFT donations:
Account Name: Prakhyata Abhinand Charitable Trust
A/C No.: 0486073000000945
Bank: South Indian Bank
Branch: Kothanur
IFSC Code: SIBL0000486
Account type: Current
Donations to PACT are eligible for 50% tax exemption under Section 80G of the Income Tax Act, India.
(this is a demo site)
Send the check to the next Address:
Charitas
51 Sherbrooke W., Montreal, QC. Canada, H5Z 4T9.
(Please mention in the check for which cause you donate).
THE COHORT- 1 PROGRAM
PACT's goal to reach, identify and treat CwSN edged into progression as we had a meeting with Ms Bharathi Devi, DCPO, Bengaluru Urban and had a brainstorming session. She understood the gravity of the problem and quickly enabled structured screening camps by PACT for 165+ Child Care Institutes (CCIs) across Bengaluru.
The COHORT 1 program began with 35+ CCIs from the central, south and north zones. PACT also announced a CCI program to assess their readiness to work on the welfare and holistic development of CwSN. The CCI with the most ideal and inclusive practices, dedicated towards the betterment of CwSN would be awarded with a cash prize of ₹2.5 lakhs contributed by Mrs. Chitra Arvind of Dhwani Foundation.
After 3 months of children's screening via a unique accredited assessment tool, and inspection of the CCI as per the JJ Act rules, PACT shortlisted 18 CCIs. The shortlisted CCIs were scored by a panel including Ms Anjana Kovoor, Adhyan Foundation; Ms Divya Karthik, Early Interventionist; Mr Manjunath & Mr Kantharaju from the Inclusive Education domain; and Mr Vinayak Rao from the disability sector.
Seven CCIs progressed to the second level where a jury panel comprising of Mr V.R Nakkina, independent professional consultant and coach for the social sector, Mentor & PACT board member; Mr David Istacky, CEO of Good Sam Foundation; and Mr. A.V Rajendra, renowned consultant & practitioner of quality management systems, chose the winner based on 11 parameters. The jury team also visited the CCIs to confirm the findings of PACT's operational team and the panelists.
On 30th March 2023, Mrs. Bharathi, DCPO, Bengaluru Urban announced Infant Jesus Children's Home as the cash prize recipient. The home shelters 85+ children with HIV and physical disabilities. A surprise joint cash prize of ₹1.75 lakhs was also announced for 17 CCIs.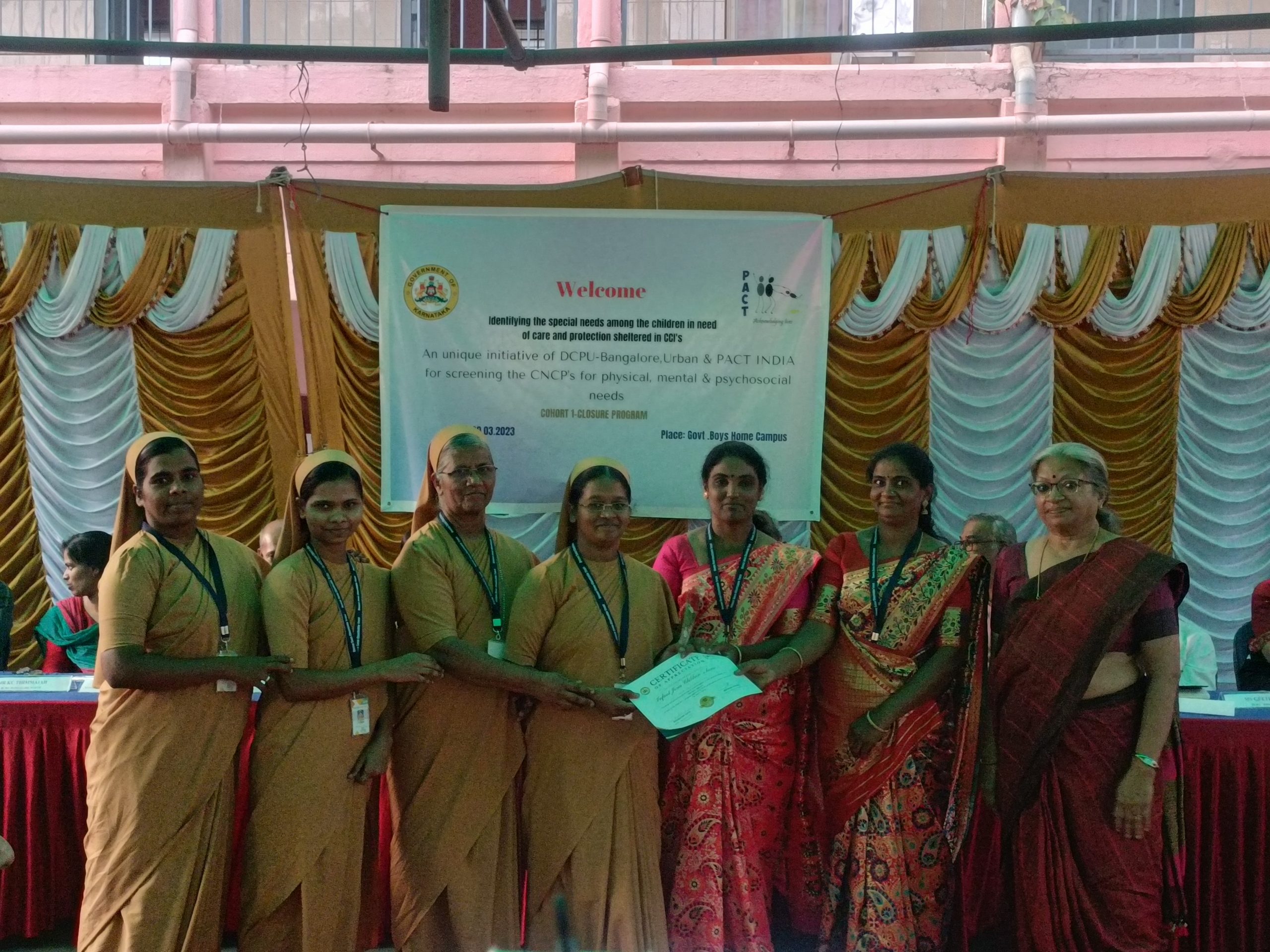 The event was graced by the presence of dignitaries including Mr. V.S Basavaraj, Ex-Disability Commissioner; Mr M.J Aravind, Founder, Dhwani Foundation; and Dr. G.V Basavaraja, President-elect 2023 for Indian Academy of Pediatrics (IAP). On the same day, PACT also signed an MOU with the Indian Academy of Pediatrics (IAP) for a program called ROSHAN (Reach out, Share And Nurture), a joint initiative by IAP and PACT to publish training manuals for CCI caregivers across Karnataka.
Highlights
PACT screened 617 children in need of care and protection (CNCP) sheltered in 33 CCIs. The following are our observations.
25% of the CNCP screened had at least one high-priority special need (excluding learning disability). A 2018 report by the Karnataka government put the ratio of CwSN in the state at 11% (this report only considered physical disability & intellectual disability).
Among the 33 CCIs screened, 15 CCIs (45%) displayed a readiness or inclination to better manage special needs.
22% of children had a mental illness that will be further assessed and treated.
7.7% of children screened had a locomotor disability, CP, etc., which is higher than the disability statistics of India.
12.8% of the children screened had sensory impairments associated with speech, hearing or vision.
4.8% of the children had intellectual disabilities.
19.9% of the children had learning difficulties which will be referred for assessment and intervention.
1.7% of the children had Global Delayed Development (GDD).