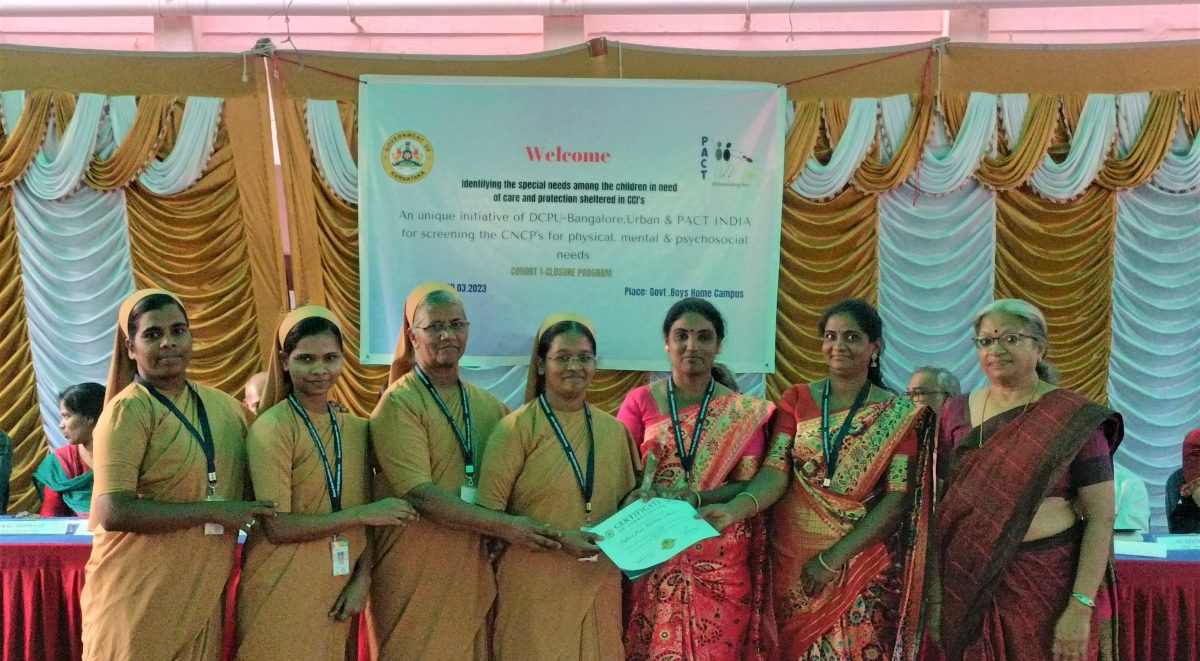 PACT's goal has been to reach CwSN and identify and treat their special needs accurately and effectively.
To progress on our goal, we brainstormed strategies and met with Ms Bharathi Devi, DCPO, Bengaluru Urban. Understanding the gravity of the problem, she quickly enabled structured screening camps by PACT for 165+ Child Care Institutes (CCIs) across Bangalore.
The COHORT 1 program began with 35+ CCIs from the central, south and north zones of Bangalore.
Along with the children's program, PACT also announced a CCI program to assess the readiness of a CCI to work on the welfare and holistic development of CwSN. A cash prize of ₹2.5 lakhs was assured for the CCI with the best practices in place and commitment towards this goal. Thank you, Ms Chitra Aravind, for this special contribution.
After 3 months of children's screening via a unique accredited assessment tool, and CCI screening based on the inspection format as per JJ Act, PACT shortlisted 18 CCIs.
The shortlisted CCIs were scored by a panel including Ms Anjana Kovoor, Adhyan Foundation; Ms Divya Karthik, Early Interventionist; Mr Manjunath & Mr Kantharaju from the Inclusive Education domain; and Mr Vinayak Rao from the disability sector.
Seven CCIs progressed to the second level where a jury panel comprising of Mr V R K Nakkina, independent professional consultant for the social sector, Coach & Governing board member of PACT; Mr David Istacky, CEO of Goodsam Foundation; and Mr A V Rajendra, renowned consultant & practitioner of quality management systems, chose the winner based on 11 parameters.
This team assessed the selected CCIs on following parameters:-
Founding principles – Vision, Mission and values
Progress since inception
Capacity to hold children
Outcomes for children
Human resources and capacity building
Infrastructure and services
Hygiene practices
SOPs to deal with emergencies
Governance and financial sustainability
Awards and recognitions
Future focus and orientation
The jury team also visited the CCIs to confirm the findings of PACT's operational team and the panellists.
On 30th March 2023, DCPO Ms Bharathi announced the winner of the cash prize – Infant Jesus Children's Home. The home shelters 85+ children with HIV and physical disabilities.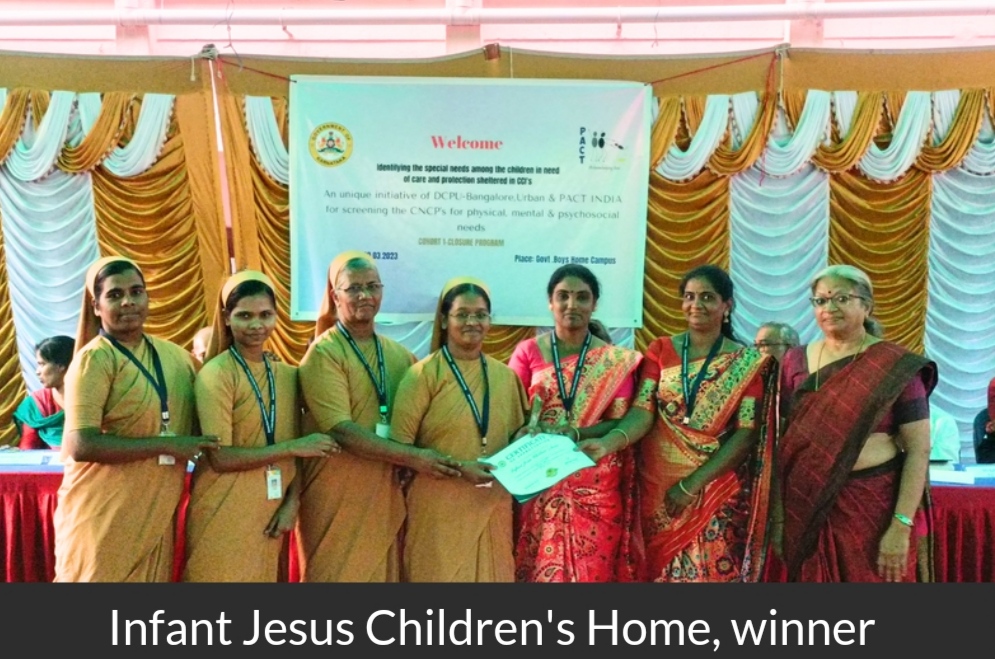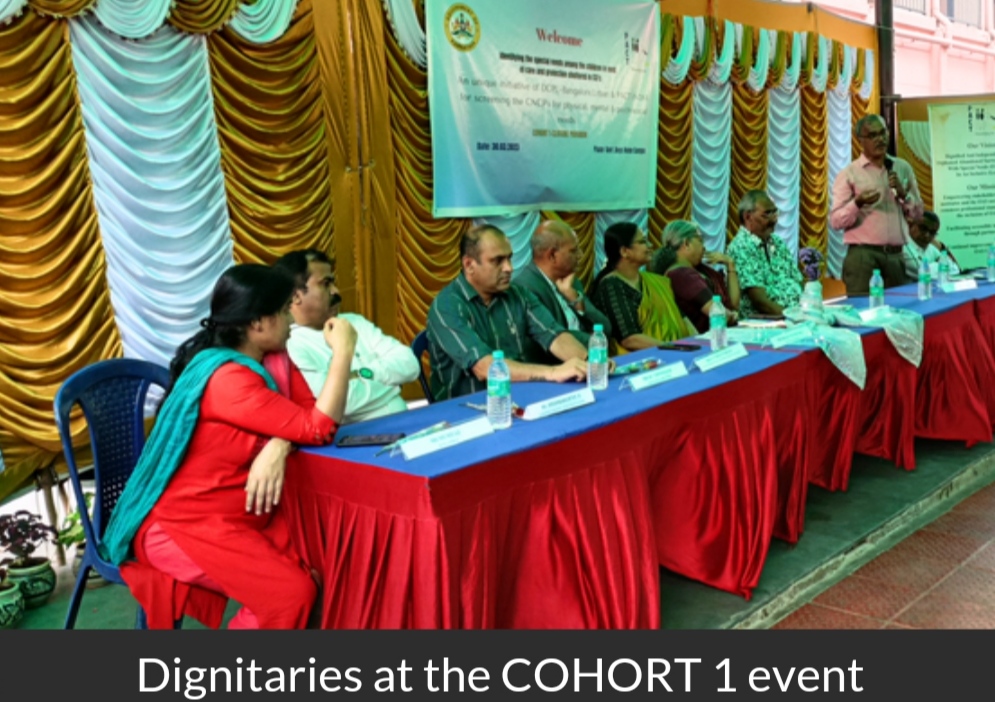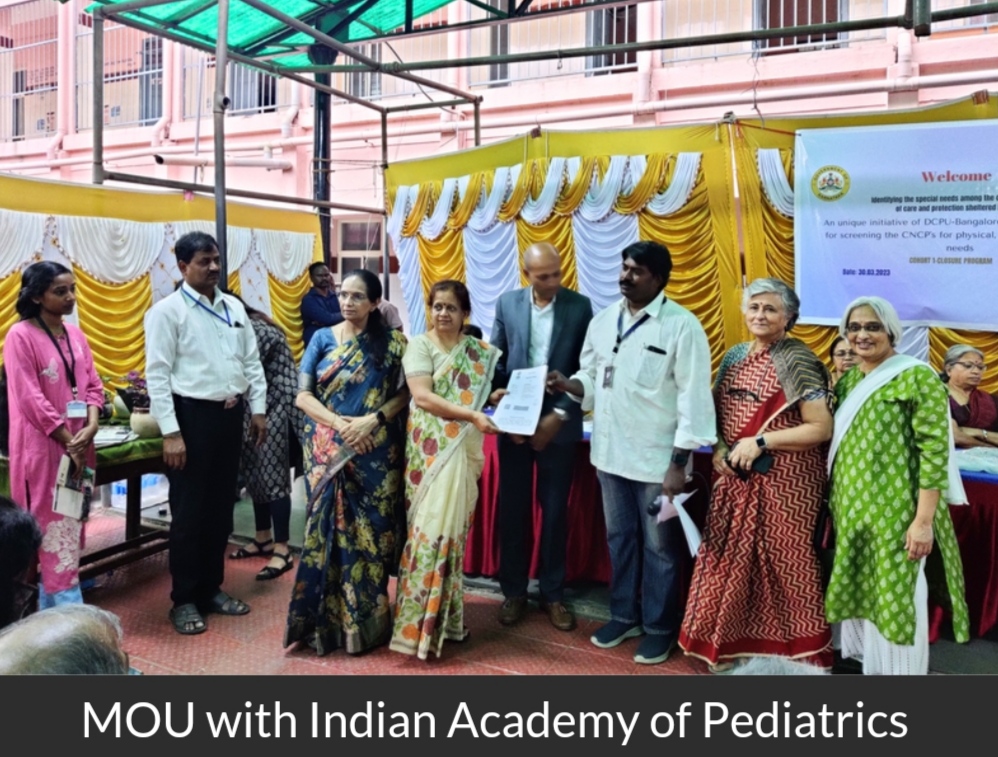 COHORT 1 Highlights
PACT screened 617 children in need of care and protection (CNCP) sheltered in 33 CCIs. The following are our observations.
25% of the CNCP screened had at least one high-priority special need (excluding learning disability). A 2018 report by the Karnataka government put the ratio of CwSN in the state at 11% (this report only considered physical disability & intellectual disability).
Among the 33 CCIs screened, 15 CCIs (45%) displayed a readiness or inclination to better manage special needs.
22% of children had a mental illness that will be further assessed and treated.
7.7% of children screened had a locomotor disability, CP, etc., which is higher than the disability statistics of India.
12.8% of the children screened had sensory impairments associated with speech, hearing or vision.
4.8% of the children had intellectual disabilities.
19.9% of the children had learning difficulties which will be referred for assessment and intervention.
1.7% of the children had Global Delayed Development (GDD).

PACT has screened 617 children in need of care and protection in 35+ CCIs. What would be the situation of the other 130+ CCIs? We will keep you updated.